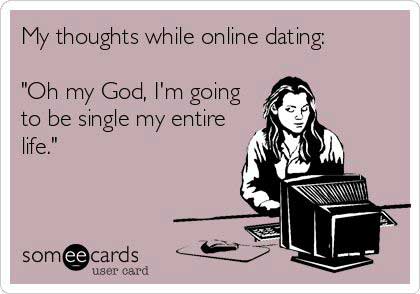 Oh, how I've missed online dating… I hope everyone can hear the sarcasm just pour from that statement.
I did talk myself into trying online dating – again. This will be attempt number four (was really hoping third time was a charm, but third time brought the serial cheater into my life). I miss going on dates. But come on, the past two days have been a complete joke.
Maybe I don't know how to properly answer these guys' questions…
Hmm…
Yesterday, had four men messaged me:
#1: One picture of himself. He messaged me saying – the same line they all say – "Your profile caught my attention. You are so gorgeous and you look so nice. Your eyes are stunning. I had to stop and talk to you. I want to get to know you. I want to take you on a date under the stars and kiss you so deep that it leaves you speechless. How does that sound?"
I thought he wanted honesty. I said "sounds like you're looking for a piece of ass."
**he blocked me**
Sad day… haha
#2: He messaged me telling me how beautiful I am. Asked what am I looking for and asked if I have I had any luck yet. Then the famous question, "do you like a man in uniform?"
Great… How do I answer this red flag question?
I asked if he was deployed. (because seriously, all the scammers are "conveniently" deployed) He said no. I said alright.
**crickets**
Men in uniforms scare me. Ex is military. Serial cheater was military. Seriously, if they are examples of men in uniform, yikes… (I know there are some awesome guys in the military. I have a friend who is married to a military man. He is really good to her. But I'm just going by MY experiences)
He is from a different state.
Not falling for that again.
**I went ahead and saved us both the time. I blocked him**
Think if the right military guy came around, I'd be able to give him a chance and be with a military guy. But, he is going to have to be pretty amazing… I am, sadly, still pretty jaded.
#3: He messaged me. Casual conversation. Nothing amazing. After a few messages were exchanged he called me "babe." I hated it. I abandoned the conversation.
Gross.
I don't like random men calling me pet names.
Makes me gag.
I will tell them I am not interested without looking at profile or even giving them a chance if that's how they address me.
Had one send me a message saying "hey sexy ass."
Here's the thing… IF I was in a relationship, then hell yeah I would love to called babe, sexy, honey, etc. BUT if I don't know the guy – I know they are saying it to every chick they message – then I just get grossed out.
**next!**
#4: I did check out his profile first, but did not message him.
I hate sending the first message! What do you say?
The original first message: Hello! How are you?
…Not very eye catching, I know.
The time invested first message – go through their profile and find a piece of information to work with: I see you play guitar. What genre do you play? Do you write your own music?
Either way, I don't get many responses. They will check out my profile and that's it.
Guess my looks aren't up to par.
Maybe my profile is boring.
This guy – #4 – face is okay looking. I flipped to the next picture, he is shirtless and there is so much body hair.
Okay, maybe I'm shallow… I don't like lots of body hair. Facial hair – okay – as long as they are groomed. But a ton of chest hair, again, I'm grossed out. My first thought is during sex choking on all that hair… Or, if his chest has that much hair, then I can only imagine below the belt.
Ugh.
So, my shallow ass left his profile and continued scrolling through other profiles.
He messaged me.
We exchanged a couple of messages. Nothing exciting.
The causal talk – how are you? what are you looking for?
I told him I was looking for a relationship. He asked fast or slow. Well, slow obviously… I'm not stupid or desperate.
He said he was looking for a good woman (original… obviously dude). He asked if I was a good woman. (Are you kidding me? How the hell do you answer that… Yes, of course. Why the hell would I say "no?" Sorry man, I'm not a good woman. I am a bitch. I am shallow. I am a pain in the ass. I am jaded. I battle with food, my weight, depression, and anxiety on a daily basis. RUN as fast as you can.)
Then, the wonderful question, he asks me: If you are a good woman, then why are you single?
Hmm… again, all these possible answers dance in my head: I'm a bitch. I'm shallow. I'm a pain in the ass. I'm jaded. I'm depressed. I'm a mess. I haven't been trying too hard to find anyone. The last guy I fell in love with was a serial cheater.
My response: I'm not into fwb or married men. (And, seriously, that is about all that is on dating sites. The pickings are slim.)
I am currently awaiting his response.
****
So, I guess I will continue trying and looking.