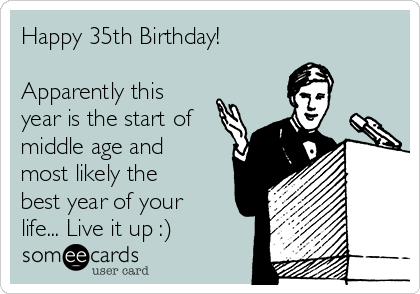 So, Happy Birthday to myself. I have now hit mid-thirties, and slowly edging my way to 40.
Most birthdays I think of age as just a number. I don't feel 35, nor do I look 35. Usually I pass for late twenties or early thirties, which works out perfectly for online dating. This birthday started with me getting ghosted. **Happy Birthday from online dating. Here's your gift – another guy that isn't worth the energy or the time** Honestly, the ghosting doesn't bother me – it used to. I used to take it very personally – what the hell is wrong with me? Now, it's more like a joke – well, I guess I didn't make the cut for the next round… next! I am actually trying to be nice and a good person. I did send him a message saying I wish him luck in his dating adventures. I blocked him. I'm not going to beg or chase – I do deserve a man that WANTS to talk to me.
What gets me is… I'm 35. I have one child. I've been divorced for 5 years. Is this how my life is going to continue? I wanted another child – but I'm not getting any younger. I wanted to get married again – but I can't even find a guy and keep his interest longer than two days.
Maybe 35 will brighten up. I have a whole year to make being 35 a fantastic year.