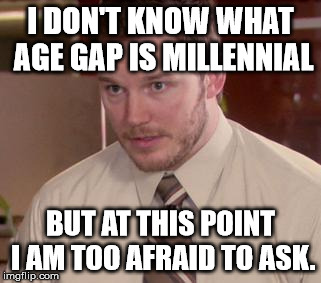 So, I've wrote about my feelings… or actually concerns… about dating younger men. The first guy was only a year younger and he raped me. I automatically associated that situation to someone every younger guy would be capable of doing. Let's face it, that is something any guy could do.
I gave a few younger guys a chance with just chatting, and they could not even do that. Conversation was straight to sex.
The serial cheater was younger, by three years, and he ended up being engaged.
So, I find myself automatically swiping left and blocking all younger guys. But really, older guys have treated me horribly too and I continue to swipe right and chat with them. Besides, eventually I do want another child and if I'm with a much older guy that may not be something he is interested in. Guys in their 40's are typically finished having children, and are already a grandparent.
Well, tell me how crazy I am…
I got a message from a guy yesterday. Good grammar – you know that is a major plus for me. Good looking. His profile had several pictures of him – not his car or dog or some random picture. He was not drinking or smoking in any of the pictures. He's never been married, no kids. Longest relationship was six years. Can hold a conversation. We actually have a lot in common.
He is ten years younger than I am.
I don't know why I've always left the guy should be older. I mean, on average females live longer so being with a younger man kind of balances out in the long run.
He is polite. He did ask a sexual question and I told him I wasn't going to answer anything like that and gave a reason why. He told me I did not have to explain myself. He continued chatting – a different topic – and never brought up sex again. He said he is looking for a relationship.
My first impression of him, I think he has either anxiety or depression. He did admit he has poor self-esteem. Apparently lost a true love in a car crash, and parents that were not in the picture much.
Now, I take everything that he says with a grain of salt. I'm not going to be played again.
We chatted most of yesterday. I think I'm going to send him a message today. I just look past his age.